Food and Recipes
Apple, Plum and Prune Pan Crumble
By Melanie Gulliver
I'm sure many of you have made a crumble in your time - one of the easiest and most satisfying desserts there is! I always remember the shock on a work colleague's face when I asked her to recommend a dessert I could take to a casual dinner party and she suggested a crumble and I told her (at age 28) that I had never made a crumble. When she told me the recipe and I saw how easy it was to make I was also surprised that I had never made one before!
This makes a nice quick, delicious crumble using two frying pans, with the topping being a lovely nutty mix.
As The Clever Kitchen likes to make recipes as healthy as possible, I've used coconut sugar instead of white refined sugar, oats instead of flour, and coconut oil or butter instead of the regular butter you would use in a traditional crumble recipe.
This recipe can be adjusted for the seasons all year round - use fruit that is in season - rhubarb in spring, cherries in summer, blackcurrants and apples in autumn, and for Christmas use cranberries and orange zest to go with the apple for a real festive zing - if using cranberries I suggest you cook the cranberries for an extra 10 minutes to the apple. Serves 2.
Ingredients
For the filling:
• 200g apples, peeled and thinly slice
• 200g fresh plums, and 50g prunes de-stoned and thinly sliced
• 2 tbsp coconut sugar
• ½ an orange, juice only
For the crumble topping:
• A small handful of skin-on almonds (about 45g), roughly chopped
• 5 tbsp small oats (certified gluten free oats if necessary)
• 1 tbsp coconut sugar
• A knob of coconut oil or coconut butter
• 1 tbsp maple syrup
Method
1 Get all your ingredients together and put two frying pans on a medium heat.
2 Put the chopped apples and plums/prunes into one of the pans with the coconut sugar and the orange juice and cook for 5 minutes, until soft but still holding their shape.
3 Put the oats and almonds into another pan and toast on a low heat for a few minutes. Add the sugar and stir until it starts to melt a little, then quickly take off the heat and add the coconut oil or butter, and the maple syrup.
4 Spoon the fruit into bowls and top with a sprinkling of the crumble. Serve with coconut yoghurt or cashew cream if you wish but it is delicious just as it is!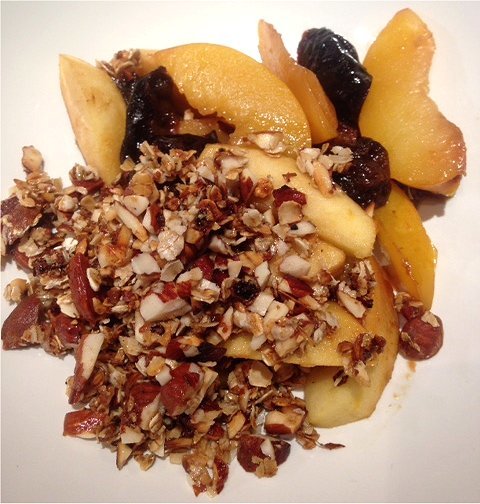 ----
Melanie Gulliver is the Clever Chef and a Director of The Clever Kitchen, a local company delivering organic nutritious wholefood meals to Monaco and along the Cote d'Azur, and holding regular nutrition workshops in Monaco and Nice. Melanie takes orders for custom cakes and events as well.
Contact details:
Melanie@theclever.kitchen, +33 (0)6 15 21 63 53
FB: facebook.com/thecleverkitchen1
Instagram: @tck.delivery and @thecleverkitchen
Share this article on Facebook