General Articles
From one Riviera to another: Alex Explores Mallorca
By Alex Sutcliffe
With low-cost direct flights between Nice and Palma de Mallorca now available in July and August, this sunny Spanish island has become an easy and inexpensive summer holiday option. In many ways, Mallorca is reminiscent of the Riviera, thanks to its climate, beautiful coastline and its mountains and medieval villages.
The capital Palma, often considered a mini-Barcelona, makes for a fantastic base, and there is a pretty good public transport network if you don't fancy hiring a car. It is a busy, sophisticated city with a charming old town and an iconic sea-front cathedral, La Seu. Built in the Catalan Gothic style between 1229 and 1601, it was modified in the early 20th century by Antoni Gaudi, famed for so much of Barcelona's distinctive architecture.
His influence was short-lived, however, as he fell out with the contractor, but wander around Palma's elegant tree-lined boulevards and you could be forgiven for thinking he'd designed much of this city, with its flamboyant art nouveau buildings and decorative flourishes. There are two main squares – the Plaça d'Espanya, home to the main transport hub, and the Plaça Major, where market stalls and street performers add life and vitality. The old town, with its narrow, pedestrian-only streets, hints at the city's Moorish past, and is full of independent boutiques, cafés and art galleries.
Unlike Nice, Palma's city beaches are a drive away, with the nearest being Cala Major to the west and Portixol to the east. The latter is a quiet, unassuming area lined with low-rise houses – its proximity to the airport ensures that no high-rise blocks will spring up any time soon. Instead, the vibe is laid-back and leisurely, with chic restaurants opening up along its attractive promenade, popular with walkers and cyclists.
Some of Mallorca's most famous, and infamous, resorts can be found along the south-west coast, and are easily accessible from Palma. At Palmanova, boats on the turquoise water imply wealth and sophistication, yet the notorious Magaluf is only a pebble's throw away!
Across the north-west of the island lies the Tramuntana mountain ridge, home to the villages of Valldemossa, Deia and Soller. Deia is particularly stunning, surrounded by verdant hills, and has long attracted writers and artists, the most famous of whom was the historical novelist Robert Graves, whose former house is now a museum. The narrow main street, the Carrer es Puig, is lined with ochre-coloured buildings and climbs up to the 15th century church where Graves is buried. At the village entrance, a track leads down to the unspoilt, rugged beach where he is believed to have swum naked and partied well into the night.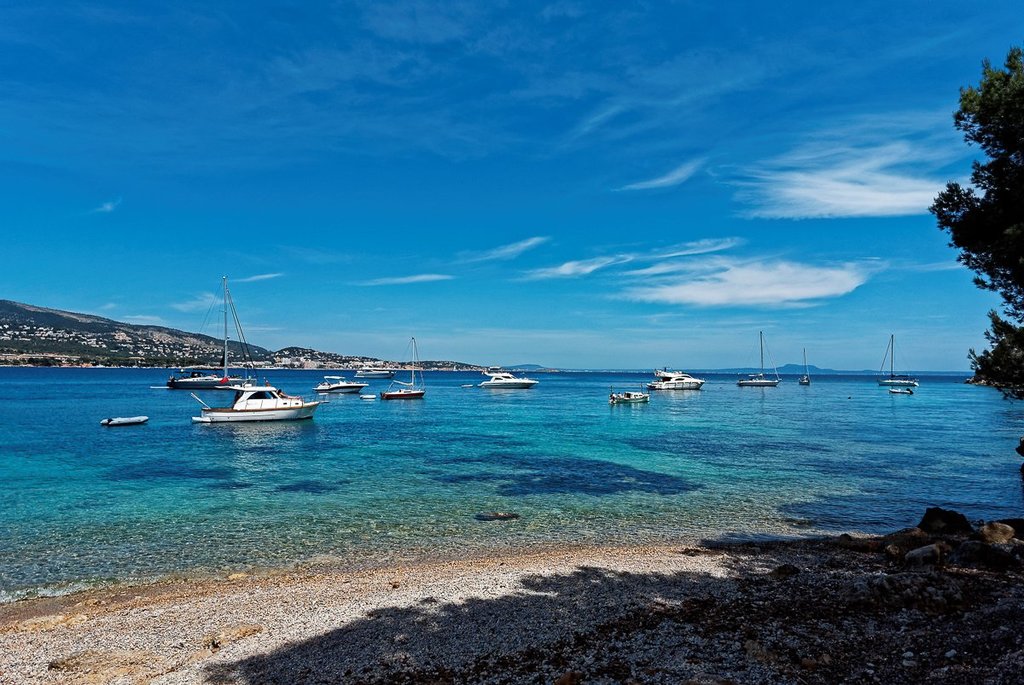 Nearby Soller, in the heart of a fertile valley, was made wealthy in the 19th century through its cultivation of citrus fruit. Once isolated by the mountains, in 1912 a narrow-gauge train connection with Palma was established, and today the 28km journey, through thirteen tunnels and exquisite scenery, is a tourist highlight. Most of the town's activities are set around the church square, the Plaça de la Constitución, lined with restaurants, bars and ice-cream parlours. From here, a wooden tram connects Soller to its coastal neighbour, Puerto de Soller, with its scenic bay and lively shopping and eating opportunities.
For foodies, Mallorca offers delicious paellas of all description – the black squid ink being the most spectacular! The famous Mallorcan snack is the Pa am boli – bread and oil – which consists of a large slice of bread served with Mediterranean goodies – in our case, ham and cheese, with olives on the side.
Mallorca really is a lovely holiday spot, ideal for both couples and families, and it's hard not to be charmed by its stunning beaches, terrific food and a genuine feel-good factor.
--- --- ---
Alexandra Sutcliffe is...
a writer and life coach,
specialising in creativity
coaching and
expat coaching.
Her website is: alexandralifecoach.blogspot.fr
--- --- ---
Share this article on Facebook