General Articles
Dinner Is Served... with style.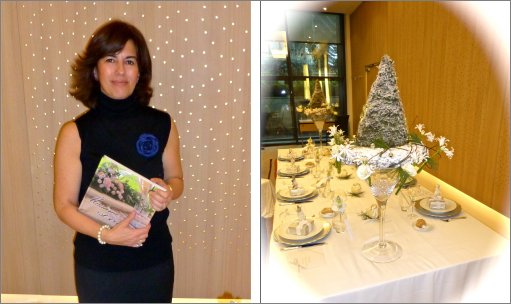 Caterina Reviglio Sonnino with her book and decorated table.
BOOK ON THE ART OF THE TABLE COMING OUT IN TIME FOR THE HOLIDAYS...

On Tuesday, November 27th the members of the Association of Business Women of Monaco were invited to a cocktail at the Novotel by one of their own, Caterina Reviglio Sonnino to celebrate her recently published book « Madame est servie », translated as « Dinner is served ».
It was the perfect opportunity to unveil her new Christmas table decorations in time for the Holiday season. Caterina who has a decoration company for receptions and weddings also gave a brief presentation about the art of the table. She quoted French epicurean Anthelme Brillat-Savarin who said « To receive guests is to take charge of their happiness during the entire time they are under your roof. »
For more information visit www.caterinarevigliosonnino.com
Photos by Celina Lafuente de Lavotha
Share this article on Facebook