Anna Fill Interviews
Green Weddings - Tatiana and Michael of Arbre et RIVIÈRE


Wedding Days are special days and the trends are changing too. Many more couples are choosing alternatives way to celebrate their day in ways that are in keeping with their ethics, values and lifestyle. Brides and grooms are enjoying being hands on, tailoring the occasion personally and being involved on how they wish their wedding day to flow.
Tatiana and Michael created Arbre et RIVIÈRE after organising and planning their own wedding. They had specific needs and wanted to create a wedding that felt unique to them and yet also took into account their passion for the environment and love of nature.
At Arbre et RIVIÈRE Tatiana and Michael contribute in the wedding day by complementing who their clients are, in the knowledge that every wedding day should be an unforgettable memory and experience for everyone.
*
| I like to qualify it as "planting and growing your
special day"... says Tatiana |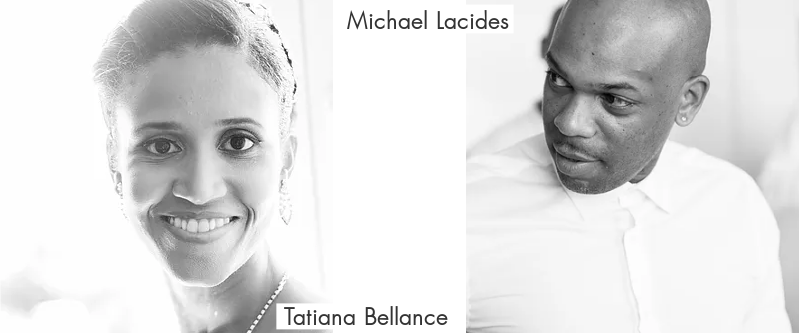 1. What inspired you to create Arbre et Riviere?
Tatiana & Michael: It all started when we got married a few years back. We organised our own destination wedding in France from the UK. We realised how complex some tasks could be to plan a wedding from a distance and we started assisting other couples.
Most importantly, we wanted our services to reflect what we are all about. We are eco-friendly people in our everyday life and this is how Arbre & Riviere (Tree & River in English) was born, reflecting our love and respect for the earth.
2. As a husband and wife team, do you each focus on a role or aspect of the business and then come together?
Tatiana & Michael: We usually work and focus on each task separately but we always consult each other before confirming anything, contacting anyone or publishing any content, such as this article.
3. Most people would be afraid to work with their life partner, why do you think your partnership works so well?
Tatiana & Michael: We are more than husband and wife. We are best friends. At first, I (Tatiana) thought I would run the business on my own but then we quickly realised that we were both very much involved, that we liked sharing ideas and advice, supporting each other, working together on all aspects so this partnership just made sense.
4. You are also busy parents, how do you manage the work/life balance?
Tatiana & Michael: We work from home, which gives us time for our children. They are also interested in what we are doing so we try to involve them by asking them their opinions sometimes and they love it. We also try to bring them with us on different locations as much as possible when we have to travel for work.
Another thing is we always make time for them when they need us as they are our priority. So far, we believe we have managed our work and life balance quite well.
5. Your concept for creating weddings that are eco-friendly, why is this important to you?
Tatiana & Michael: Eco-friendliness is part of our lifestyle. We are very passionate about everything that is eco-friendly and natural with a chic style.
Eco weddings can represent just that. We help eco-conscious couples who share our principles but also any couples who are intrigued by eco weddings (and lifestyles).


Photographer: 'Marie Marry Me'
6. When you create a wedding, do you suggest a theme or is this something you decide with your clients?
Tatiana & Michael: We let the couples decide, but it can happen that some do not know what they want and this is when we help by giving them some suggestions – usually a few options for them to choose from.
7. How easy is it to find products and suppliers who share your philosophy? How important is it that the people you work with share your passion? Do you have a preference to working with particular materials? (such as plants, fabrics and food even)
Tatiana & Michael: It can be quite challenging to find products and vendors who share our philosophy but we do find them, especially when this is really important to our couples. When couples are flexible, we also suggest vendors that are not necessarily eco-friendly but we at least want them to work ethically.
We work preferably with materials that are organic, natural, eco-friendly. It can be organic food, recycled decoration items, potted plants and more.
8. Where do you create your events? Indoors or outdoors? Is it in the UK or Europe or...? And do you ever have unusual requests for themes, destinations or venues?
Tatiana & Michael: We create weddings and events in the UK and overseas. They take place indoors or outdoors depending on the weather and on the preferences of the couples. We always prepare ourselves for an indoor backup plan in case of bad weather on the day of the event.
So far we did not have any unusual requests for themes, destinations and venues but we are ready for when it happens as we love challenges.
9. There is a trend evolving where couples are wanting to be more involved with the planning of their own wedding, are you still able to offer a service as Arbre et Riviere?
Tatiana & Michael: Absolutely! We initially inform our couples that there is a lot for us (as wedding planners), them (as a couple) and us together to do so they know they will be involved in their wedding planning. This is their wedding, their day and they should have it their way.
That said, if they want to be more involved that we require, it is completely fine as long as they update us so we can collaborate well together. On the other hand, if they do not really want to be involved in the planning of their wedding, that's also fine with us. It simply means that they trust us!
10. Why do we believe you have been so successful? It is a competitive business and what do you believe is the key to staying successful?
Tatiana & Michael: Eco-friendly lifestyle is becoming more and more popular and people want to include that into their wedding. Couples are also interested in finding more about eco-friendly weddings, they contact us to learn more about what we do and they quickly realise that eco weddings do not compromise on the beauty of their big day.
This is just an alternative style to plan and design your wedding. Also if you follow the trends, you will see that eco weddings are definitely on the rise.

11. Where can we find more details about you?
Tatiana & Michael: You can find us on www.arbre-et-riviere.com and also on social media:

Thank you very much for interviewing us, Anna!
---
Let's talk about your ceremony...


Anna Fill
anna@topcelebrant.com
topcelebrant.com
Share this article on Facebook