Showing all articles having tag 'Cannes'
General Articles

Stars came out in force to support amfAR's 25th annual amfAR Gala Cannes at the Hôtel du Cap-Eden-Roc in Antibes, France, during the Cannes International Film Festival. Read more
General Articles

Actress Dame Helen Mirren chose Avakian at the 71st Cannes Film Festival for the premiere of "Girls Of The Sun" - "Les Filles Du Soleil" and as always looked absolutely wonderful. See more
People and Places

We are so thrilled to introduce you to another 'Couple of the Month'... Jackie Pressman-Gintell & Burton Gintell are a busy, active and beautiful couple living life to the full in Cannes on the French Riviera. Read their story and answers to the 6 questions they both had to agree on. Read more
Art and Artists

Our Artist of the Month Sara De Christopher. She studied at California State University and now works from her studio in the South of France. We chose to feature 3 our favourite abstract pieces. See more
Events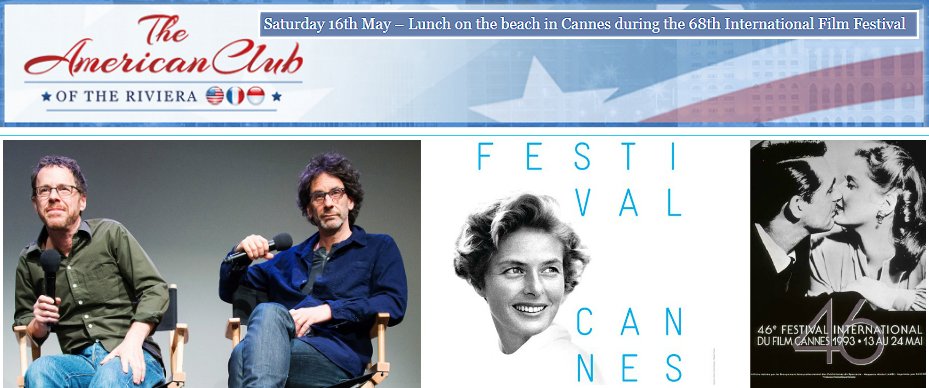 The American Club of the Riviera once again celebrates Cannes Film Festival. Camera, Lights & Action, with a beautiful lunch on the Croisette. Full details
Thursday, 30 April 2015 Section:
Events

Events

See information and details of the events taking place over the next couple of months with The American Club of the Riviera.
Monday, 5 May 2014 Section:
Events
General Articles
Victoria James's popular 'Doggy Outings' takes another eager group to Cannes.
Read the 10 good reasons why this outing was so useful to all.
Anna Fill Interviews

Interview with Trixie - March 2012
Trixie Buckel is 94 years old and still has a vitality and love for life that is inspirational and motivating.
With a marriage lasting 70 years, Trixie shares her thoughts with me. Video Interview
People and Places
Friday, November 12 from 14 to 18h
Art and Artists
My recent trip to Cannes was not just another trip to see an exhibition... the experience was a meeting of minds. The Riviera Woman meets artist Masa Gros.