General Articles
Paula Radcliffe joins over 400 people - Running for the Ocean
By Celina Lafuente de Lavotha - Monaco Reporter
Increasing awareness to protect our ocean and its marine life
On Saturday, March 23, 2019, over 400 women, men and children of all ages gathered in Menton for the Race for the Ocean organized by the Monegasque/French non-for-profit association The Animal Fund (TAF), with the objective to increase public awareness of the need to protect our ocean and its marine life.
Famous British long-distance runner, Paula Jane Radcliffe, gave the official kick off and led the race in an atmosphere of energy and optimism, running for a good cause. There were prizes for the 3 winners in each category. After the race, TAF organized a beach cleanup where lots of trash and plastic was collected.
TAF give their heartfelt thanks to the village of Menton and sponsors and partners: 2PM Portfolio Management, Levmet Monaco, FNAC for donating Lego and books for the children, UExpress Menton for donating water and energy bars, and the Columbus Hotel for providing eco-cups.
About Paula Radcliffe
Paula Jane Radcliffe, MBE is a British long-distance runner. She is a three-time winner of the London Marathon, three-time New York Marathon champion, and 2002 Chicago Marathon winner. She is the fastest female marathoner of all time and has held the Women's World Marathon Record since 2003, with a time of 2:15:25.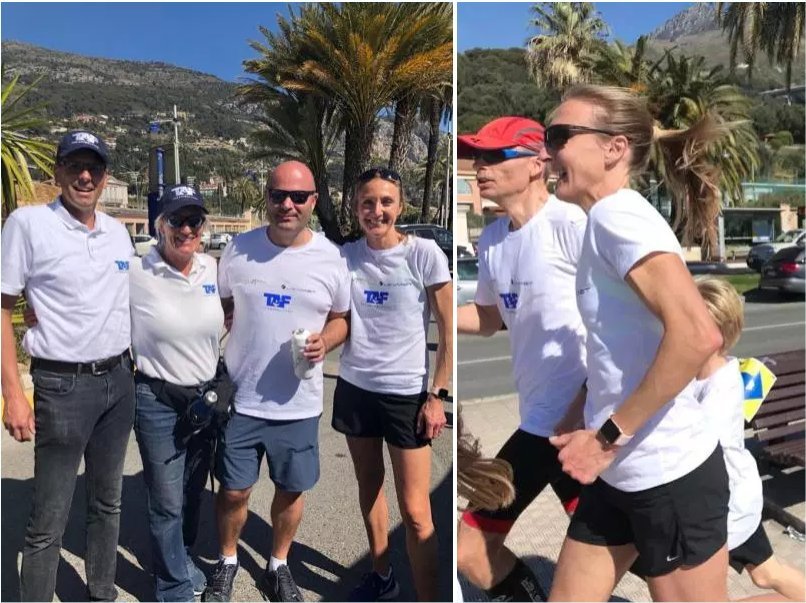 The Reality of plastic pollution
Every minute, one garbage truck of plastic is dumped into our ocean.
1 million plastic bottles are bought around the world every minute.
Worldwide, more than 2 million plastic bags are used every minute.
In 2017, world plastics production totaled around 348 million tons. And only 9% of it has been recycled.
More than one-third of the plastic polymers produced are used for packaging.
73% of beach litter worldwide is plastic.
Plastic is killing more than 1.2 million seabirds and animals every year.
Every year, the average person eats 70,000 microplastics, which are extremely small pieces of plastic that come from the breakdown of industrial plastic.
Quote
"Only we humans make waste that nature can't digest." Charles Moore, Marine Researcher
Share this article on Facebook