General Articles
Urban Painting Around the World in Monaco
By Celina Lafuente de Lavotha - Monaco Reporter
Prince Albert left his royal imprint with a can of paint!
The Principality of Monaco hosted the second edition of Urban Painting Around the World (UPAW) on the Albert I Promenade from July 18-20, 2018. (Photo: View of UPAW 2018 @CelinaLafuentedeLavotha)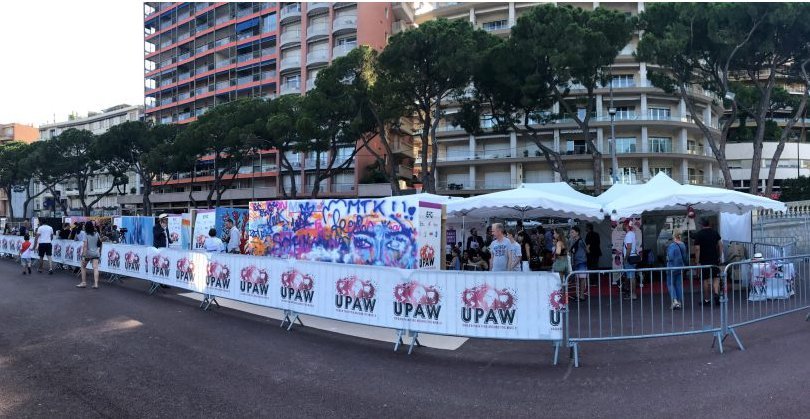 The live open-air painting performance brought under the same sky 10 of the greatest talented street and graffiti artists, coming from the four coins of the world, for an environmentally conscious art extravaganza on the theme "La planete a croquer"(a play of words meaning a planet to draw or chew). Prince Albert visited the artists and as he did last year, and he once again got hold of a can of paint leaving his royal imprint on one of the artworks. Accompanying the Prince were H.E. Bernard Fautrier, VP of FPA2 and Patrice Cellario, Minister of Interior and Culture.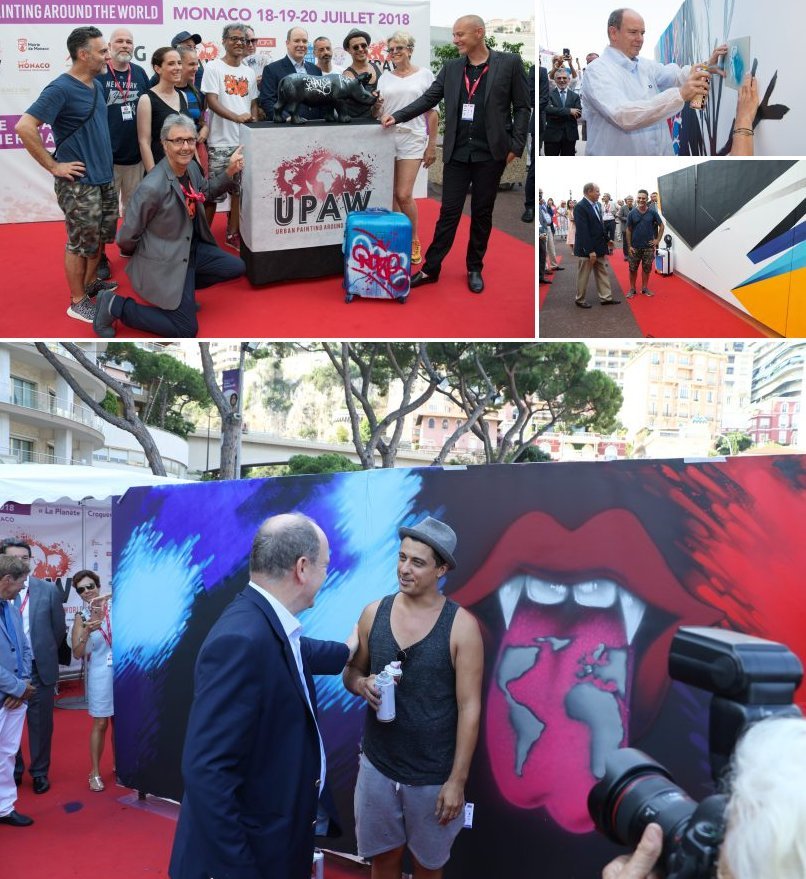 The main objective of this one-of-a-kind, interactive and highly entertaining charitable event is to create awareness through art, about the fragility of our environment and how to protect it to ensure life in our planet. Visiting children and adults had the chance to actively participate by leaving their mark on especially dedicated canvas. (Photo below: Children as street painters UPAW 2018 @CelinaLafuentedeLavotha)
Funds raised to assist with environmental projects
The talented artists created ten large paintings over 3 days, and they additionally tagged TUMI V3 collection luggage bags, transforming the cases into unique art pieces reminiscent of their art pieces, that were sold together with the artworks at a public auction on Friday, July 20, conducted by the prestigious auction house Artcurial. Over Euro 52,000 were raised, but it is just a provisional amount as the remaining pieces will be sold at a later date, and the final sum minus organizational costs will be delivered in October to the Prince Albert II of Monaco Foundation whose goal is to foster environmental protection worldwide through a myriad of projects.
It is still possible to acquire the remaining artworks and a few of the painted luggage pieces by contacting willem.speerstra@speerstra.net
An international cast of eco-conscious street artists
This unique event was founded and organized by Italian Alberto Colman, and organized by WSM Events and Wizart Agency, with the artistic collaboration of Willem Speerstra, and the support of the Town Hall, the Tourist and Convention Bureau in Monaco, and the Prince Albert II of Monaco Foundation.
The 10 well-known international artists participated in this charitable art event, using eco-friendly paints, were:
Italian born in Monaco Belinda Bussotti aka BELI a multifaceted artist that expresses her art through painting, photography and sculpture, and in this case showing the plight of the corals; Julien Colombier from France a painting who was strongly influenced by the world of graffiti; Chris Dazea student of Art Design High School in New York who latertransposed his art to subway cars, and known for inspiring "The Get Down", and for UPAW 2018 selected to give a regard to the Mediterranean cause; Swedish artist Daniel Fahlstroms aka HUGE who masters the work of spray paint, designed a gorilla and a grenouille of Brazil to highlight endangered species; Kashnik from France, the female artist and activists who wears a moustache as a celebration of human diversity; Claudia Walde aka MadC from Germany and whose roots are in vividly colored graffiti art; Xavier Magaldi living and working in Geneva whose background in watchmaking brings precision, geometry and technical prowess to his drawings, creating a new movement called MecaFuturism, chose to portray the glaciers in danger; Anthony Alberti alias Mr OneTeas an Italian artist living in Monaco, draws his inspiration from the political and cultural environment giving his very own unique critical vision of society, expressing in his artwork the denounce of consumerism; Niels Shoe Meulman is a visual artist from Holland known for his gestural paintings, revealing traces of Graffiti and Calligraphy; and Remi Rough from the UK who sees his post graffiti as a space for experimentation around color and geometry.
Loyal sponsors & partners
The organizers of UPAW want to extend their heartfelt thanks to their loyal sponsors and partners for their continued generous support: Prince Albert II of Monaco Foundation,TUMI, Montecarloin.net, EFG Bank, Assurances Generali, Marin Beaux Arts, Cubanisto, Marcello restaurant Monte-Carlo, Speerstra Gallery, Wizart, Generali, Artcurial, TV Art Live, Artel.
UPAW 2019
The 3rd edition of UPAW will take place in July 2019 under the theme: Les Animaux en voie de Disparition or Endangered Species in English.
(Photo:Rhino signed by all the artists participating in UPAW 2018 @CelinaLafuentedeLavotha)
Quote:
"I laugh at the way some people think graffiti is all selfish tagging and vandalism. Thoughtful street-art is like good fiction – it speaks out on behalf of everyone, for us all to see." Carla H. Krueger
Share this article on Facebook