Books and Films
Sarah's Vignettes: One Cornish Summer by Liz Fenwick
Introducing Sarah Swan who has a passion for reading books, books and more books, and enjoys a healthy bit of rambling about life too!
Sarah has been reading books from a very early age and before she could read, she was always flicking through picture books. Sarah is convinced that she was born with a book in her hand!
Sarah reads a wide range of genres and is willing to try most genres once, but she does keep going back to both contemporary and historical fiction more than anything else. She also loves taking her own photographs and sharing them with friends and family.
Books are a big part of Sarah's life and as well as running her own blog so she can share her love for books, Sarah will be sharing her top reads on The Riviera Woman.
"If you would like to use any of my photographs, you can contact me and also if there is a book you would like me to read and review, let's talk."
www.sarahsvignettes.wordpress.com
~~~~~
Book Review and Interview with Liz Fenwick: One Cornish Summer

I am absolutely delighted to welcome Liz Fenwick and her latest novel One Cornish Summer to my blog today. I have a great interview with Liz to share with you as well as my review of this awesome book.
Thank you to Orion for sending me an electronic proof copy of the book via Netgalley in return for an honest review and to Liz Fenwick for taking the time to answer the questions.
~ Publisher's Description ~
Against the beauty of Cornwall, a story of two women struggling with their past: one cannot remember hers, the other cannot forget…
When Hebe receives a life-changing diagnosis at only 53, she struggles to make sense of what it will mean for her, her job and the man she loves. With memories slipping away by the day, she flees to the one place she has always felt safe and peaceful – Cornwall, and the house her family spent so many summers in.
Lucy is having her own crisis, and seizes the chance to follow her aunt to Cornwall. Curious about what has driven Hebe there after so many years, she also has to battle with the secret she has kept since her family's last summer there more than ten years ago.
Both women will learn that memories live in our hearts and that sharing secrets can set you free… But can they find their way back to the things that are truly important to them?
~ My Thoughts ~
If you're a regular visitor to Sarah's Vignettes or follow me on social media, you will know that I am a big fan of Liz Fenwick's work and I adored her last novel, The Returning Tide (read my review here) with it being one of my books of 2017. So I was very excited when I got the opportunity to read One Cornish Summer ahead of publication – and I absolutely loved it! Just when I think I've found my favourite Liz Fenwick novel, she goes and pulls another one out of the bag!! It is the second book this year to leave me with a book hangover – the inability to start a new book because you're still living in the previous book's world- and it's only early March!
One Cornish Summer is a story of love, relationships, and secrets and is both heartwarming and heartbreaking. Throw into this mix, a historical mystery thread, an imposing house and the beautiful Cornish countryside and you have yourself the perfect read.
Liz Fenwick has created some great characters, each with their own unique voices. Hebe is an historian and academic and as such has a mature and educated voice. The inclusion of John Donne's poetry fits perfectly. Hebe got under my skin, in a good way, from the very first page. Although she is over 20 years older than me, I really connected with her and wanted to dive into the pages to give her a hug because, at times, her story and struggle with Alzheimer's is heartbreaking. Liz Fenwick tells this beautifully and with so much respect. Hebe's story is poignant and touching and, in fact, has two dimensions to it. Firstly, we experience Hebe's day to day living with Alzheimer's and secondly, her flashbacks to one particular summer in Cornwall, where Donne's poetry is cleverly interwoven to reveal the turmoil Hebe's mind is going through.
Although closer in age, at 28 years old, it took me a while to warm to Lucy (not a fault with the book, we don't always warm to everyone we meet first time) and as more is revealed about her and her past and why she is so reluctant to be in Cornwall, she grew on me and I really liked her.
The voices of Hebe and Lucy are so vastly different but they complement one another perfectly and the two characters have a lovely relationship.
As I would expect from a Liz Fenwick novel, the house is a character and is an integral part of the story. Helwyn House means different things to each of the characters and it draws them and the reader in, revealing its secrets bit by bit and subtly forcing the characters to reveal theirs too. From following Liz on social media, I can recall from when she was doing research for the house. Helwyn House is modelled on Godolphin House. Liz and her family went to stay so that she could bring it to life on the pages, something that she does brilliantly. Even each creak of the floor board is perfectly captured.
It was great to see characters from earlier books make an appearance and to be able to follow a continuation of their stories. I can't wait to find out what they do next.
As I mentioned above, Donne's poetry plays a big part in Hebe's flashback story. It's the first time I've knowingly come across his poetry in any great detail and wow, it's powerful. It is evident that Liz Fenwick knows his work intimately to be able to pick out just the right parts to illustrate Hebe's mind state so well. I loved it so much that I went out and bought a collection of his work!
The writing in One Cornish Summer is beautiful, particularly in Hebe's story, but the writing in the last chapter is just divine and touched me so much that I was left sobbing. Be warned, this book will leave you reaching for the tissues and needing your favourite comfort food! Yes, I've felt choked up and shed a tear at stories in the past but there may only be one or two that have left me in a blubbering mess – One Cornish Summer being one of them. For words to have this much effect on a reader is powerful and I am in awe of Liz Fenwick's ability to create such atmosphere. There are also heartwarming and amusing moments in this story and the balance between these and the more emotional parts, feels just right.
With The Returning Tide, Liz Fenwick took her writing to another level, moving away from the genre of romantic fiction edging towards literary fiction, but with One Cornish Summer, she goes one step further still, marking out her route and clearly showing she has the ability to write literary fiction. I am thoroughly looking forward to seeing what she writes next. Please let it be another giant leap forward because this new direction works.
One Cornish Summer is a sublime read which is cleverly crafted, intricately researched and beautifully written. I really hope it does well because it deserves to fly. I highly recommend it and it would make a perfect present for Mother's Day tomorrow!!
~ Where to find

One Cornish Summer

~
~ Interview with Liz Fenwick ~
Welcome to Sarah's Vignettes, Liz!! It is an absolute pleasure to have you here. Can you tell us a bit about yourself?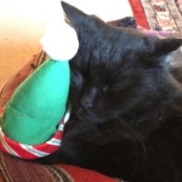 Liz: I'm a novelist, an expat, a wife, a mother and servant to one black cat…not necessarily in their order of importance. But Sooty would say that the last shall always be first!
You've become well known as a writer for your love of Cornwall and you were cited as the queen of contemporary Cornish fiction in The Guardian, what is it about Cornwall that is so inspiring for you? Essentially, why Cornwall?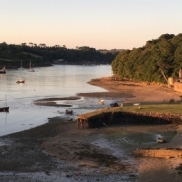 Liz: I've tried to answer this question many times and the answer always boils down to the landscape. I sound mad when I say it but I see stories in the landscape. Every walk, drive and boat journey I take, stories are staring at me. So Cornwall has become my muse.
Obviously I don't write every story I see…I'd never stop…but those mini vignettes colour the background for my larger stories. Cornwall has slipped under my skin and seems to direct my fingers if you will.
Your latest novel, One Cornish Summer, was published 2 days ago – Congratulations!! – What can we expect from it and where did the inspiration for this story come from?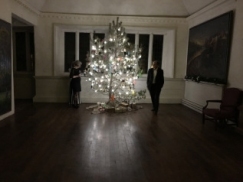 Liz: Thank you! This is a story that has been brewing in my mind for a while and began to take concrete shape when I took fellow writer Fanny Blake to see Godolphin House. I had been there several times before the National Trust owned it but this was the first time since they had restored the property. Each step through it brought ideas that had been hovering forward. Suddenly I knew this was the house to tell the heartbreaking story of someone with early onset Alzheimer's. It is a house that is haunted by stories of the past…but they are only half visible. It's past can only be partially known to us because over half the house is now gone…taken away stone by stone. The rest of the story grew from that.
I loved how you've cleverly interwoven John Donne's poetry into Hebe's story. Can you tell us more about this? Did you always want to feature his poetry in a story?
Liz: I've used a snippet of Donne's poetry before in Under A Cornish Sky. I love how he manages to convey the unsayable, the unknowable…in his imagery. The poetry has stayed with me since I first studied it. Also most people know Donne without knowing they know him…no man is an island…do not ask for whom the bell tolls… So for me Donne's poetry in a way captures Hebe's mind…she holds on to the words of his poetry when everything else has left her…therefore she holds onto the beauty and the power of love.
One Cornish Summer has a historical thread running through it and in fact all your books have a historical element to them, and The Returning Tide was set mostly during the Second World War. Where does your love of history come from?
Liz: My love of history began I think with my early reading. Two of my favourite books growing up were Constance: a story of early Plymouth and Johnny Tremain. I cannot tell you how often I reread those stories and so wanted to be a part of history. Historical fiction is my go to read even today. I hesitated to write it because I felt/feel I am unworthy. The level of research required to do it, well, is intimidating and I could easily lose myself in a research hole and never return to write the story! If my editor hadn't insisted that I was capable of doing, I never would have written The Returning Tide. So in all my other books I touch history. This is to satisfy me, my heart, and to add a layer of richness to the tale.
The houses in each of your books are like characters. What is about houses that excite you and was it always your intention to feature them in this way?
Liz: Where to begin on houses??? I have always loved them and my life as an expat has only made that love more intense. Does a house equal home? Not always as we know…but it begs the question why. I still dream about my childhood homes…mostly at times of stress I keep returning to them.
No doubt someone could make something of that! So for me whether small as Bosworgy in A Cornish Stranger or grand as in A Cornish Affair, houses have played a key part and I think it will continue.
Which inspiration comes first: the house or the story?
Liz: Once I thought it would always be the same but I realise now that it can work many ways. A Cornish Affair began with my mother-in-law's books on Cornwall and her love of gardens but then sitting in the garden at Bosahan the house completed the story. In fact saying that…the house grounds the story ideas floating in my mind. As I mentioned above Godolphin House was the perfect setting for the story I wanted to tell. For the book I am writing now Porthpean House is perfect…as was Powders for A Cornish Stranger.
What's a typical writing day like for you?
Liz: I don't have one until I near a deadline when everything is dropped and only me and the story exist. I began writing again when my youngest went to school. I had two hours. And boy did I use them. As the school hours grew so did my writing time. But I was also a full time mother living in a foreign country so life for the family had to happen. This taught me to be flexible. Now I write full time but the house still needs attention, books need promoting and life has to happen. I, as they say, roll with the punches. I know I should be more disciplined and have a defined routine…one day!
Do you have any writing rituals? i.e. things you must do before settling down to work or certain stationery you must use?
Liz: I used to have more…now I have to check emails, Facebook, Twitter etc before I settle to writing. Coffee is essential and many times reading a writing craft book to put my mind in the right place. Oh and I need notebooks…always notebooks and a good pen!
Do you have any top tips for any aspiring writers reading this?
Liz: The first is read…the good, the bad and the type of book you think you want to write and then read some more. The second is listen to your work…I use text to speech on my computer…this gives you distance from your work and you can hear clunky prose, and third learn the art of rewriting as that is where the story comes alive.
Who are your literary influences? Do you have a writing hero?
Liz: I think the influences are Mary Wesley, Mary Stewart, Daphne du Maurier and Rosamunde Pilcher and I'd love to write like Kate Atkinson.
Which books have you enjoyed reading recently? Any we should go out and buy?
Liz: Tough question as I have just read a batch of wonderful books coming out this year and I loved all of them in different ways. So go and buy The Stranger by Kate Riordan, The Curious Heart of Ailsa Rae by Stephanie Butland and The Cliff House by Amanda Jennings.
What's next for Liz Fenwick?
Liz: I'm currently working on my next book due out next year…A Path To The Sea…three generations of women and one devastating secret.
For a bit of fun, if you could invite 5 well-known people (past or present) to a dinner party, who would you choose and why?
Liz: Nigel Slater (I love his writing and his recipes), Pope Francis (he is such an insightful man and manages to hold an ancient position yet be a pope for today), my father (because I miss him terribly and he was a tremendous dinner guest full of conversation and he loved my cooking), Jane Austen (because I love her work and would love to pick her mind on her writing process and inspiration), and Mary Wesley (I love her writing and she led the most fascinating life – if you haven't read her biography Wild Mary, do!!).
~ About Liz Fenwick ~
Liz Fenwick, award-winning author, ex-pat expert, wife, mother of three, and dreamer turned doer, was born in Massachusetts, and at the age of twenty-six moved to London where she fell in love with an Englishman. After nine international moves, she now spends her time in Cornwall with her husband and her mad cat, writing stories inspired by the beautiful Duchy.
Find out more at www.lizfenwick.com, follow her on Twitter @liz_fenwick or visit her Facebook page @liz.fenwick.author.
Share this article on Facebook