General Articles
The artistic language of mountains and flowers: Clarence Bicknell
By Julia Moore
If humans were vegetables, then Clarence Bicknell would be a beguiling, mysterious onion. A man of many layers, a courageous maverick of his contemporary, Victorian straight jacket era, he threw off convention and followed his passions.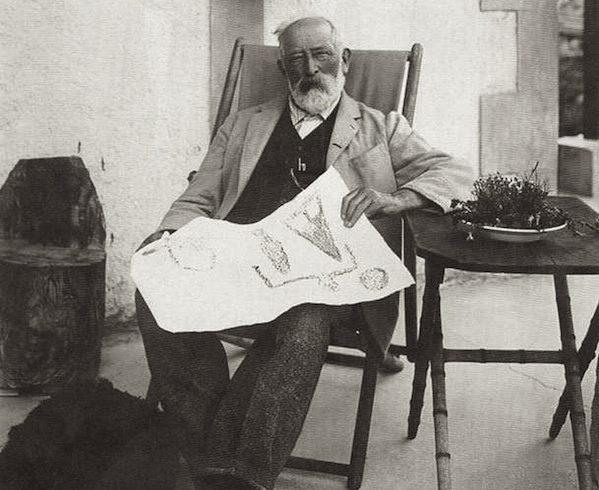 Next year, 2018 will be the centenary of his death. Our contemporary world, with its dumbed-down global travel and accessible trekking common-place, Bicknell reminds us of the pioneering mind-set incorporating rudimentary modes of transport and the sheer devotion of time and discomfort of discovery. He provided the turn-of the-Century world with early botanic and rock-carving discoveries, meticulous archiving, and water-colours to rival the peer-group establish visual artists, frequent visitors to the London parental home.
His life journey took him from South London to the Merveilles valley, Alpes-Maritimes. Specifically, he threw off the career/life-plan which accompanied a comfortable, Victorian existence, especially the claustrophobia of clerical life. Never losing his personal faith, he eschewed the life of a parish vicar, in the easy existence of the South of France, instead profiting from its climactic provision of flora and fauna.
Bicknell's solitary, reflective life did not preclude a broad-view, humanitarian engagement with the wider world. Almost as a balance to his intense, focussed mountain life, his shrewd investments benefitted charitable projects - a poorhouse in Shropshire and a hospital in Bordighera. His exercise and promotion of Esperanto and generosity in sharing his findings with a growing academic community is evidence that this is no reclusive hermit, turning his back on the world.
It's a cliché to speculate that his background - closeted life at Cambridge, associations with a closed-set Brotherhood combined to cause the 'escape and run' decision. An alternative view is that such formative experiences led Bicknell to adopt the approach he did - a mathematician by training, in addition to contemplative and reflective periods also required by ecclesiastical training became his defining skill-set for the path he, himself chose, they were complimentary to his final works, not adversaries to it.
The exhibition of watercolours, design art, personal effects and 18-minute bio-film is at the Museo Biblioteca Clarence Bicknell, Bordighera, until 30th November 2017.
(Mondays 8.30-13/13.30-17.00hr, Tuesdays and Thursdays 9-13hr). Curated by Susie Bicknell. Marcus Bicknell has recently been awarded with the Parmurelu D'Oru by the Descu Runde, for services to the region's culture and the significance of Clarence's life and work here.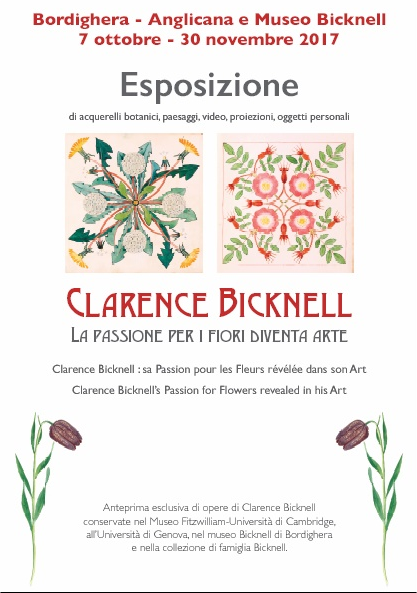 Share this article on Facebook