Fashion
The 20 Hottest Fashion Trends In The World Right Now
Long Tall Sally has worked with trend consultants to reveal which is THE fashion piece, print or accessory that is currently the most popular across 20 of the most stylish cities around the world, from London and Paris to lesser-known fashion hubs like Seoul, Melbourne and Dubai.
To pinpoint what real women across the globe are actually wearing, trend consultants monitored 'outfit of the day' posts on Instagram, Pinterest and street style blogs from a mixture of cities across 20 countries. Alongside well-known fashion destinations like Paris, London, Milan and New York, the research delves into the style of the fashion capitals of the next generation, such as Lagos, Seoul, Berlin and Bogota. The result is a unique snapshot of the fashion and style of real women, from 20 cities, across six continents .
Surprisingly, in Paris it's the humble white tee that is currently trending on the streets of the fashion capital of the world. In contrast, Francophiles are taking over the streets of Tokyo, with colourful berets a firm favourite amongst fashionistas in Japan's capital.
The research shows that millennial pink is here to stay, with Melbourne embracing it with cropped trousers, Berlin loving the shade for their 70s panelled suits and Shanghai pairing oversized sleeves with the on-trend light pink hue.
As we enter winter, there's also plenty of outerwear inspiration on offer from the streets of Milan, Stockholm, New York and Copenhagen. The stand out trends include belted coats in Milan, statement coats in Stockholm, check blazers in Copenhagen and colourful faux fur coats in New York.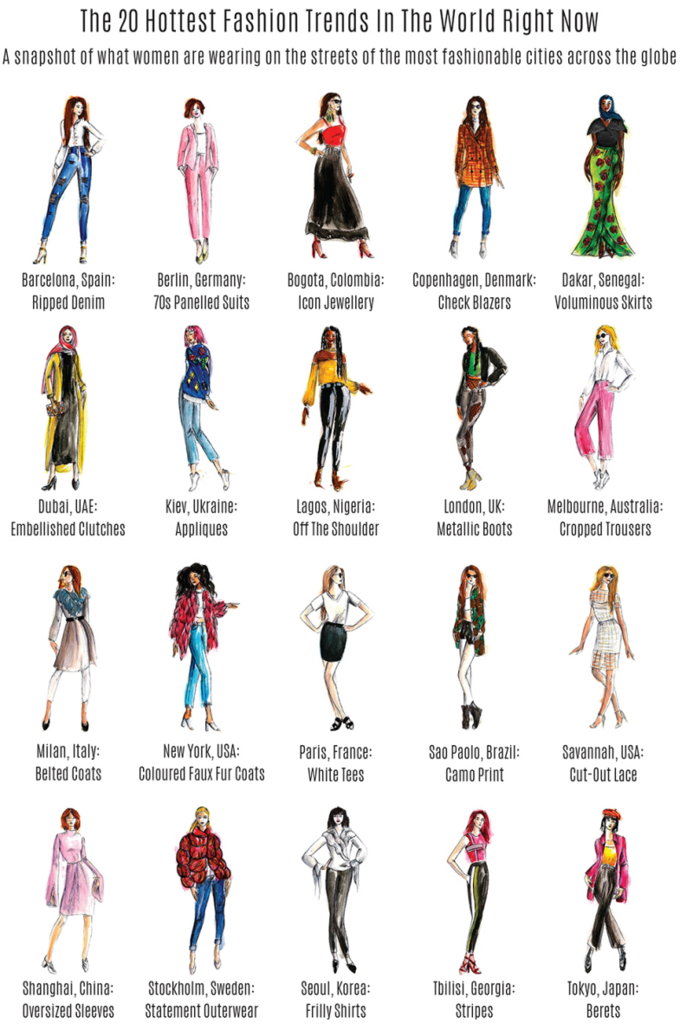 "a unique snapshot of the fashion and style of real women, from 20 cities, across six continents"
Top 20 Fashion Trends In The World Right Now
1. Icon Jewellery in Bogota, Columbia
2. Frilly Shirts in Seoul, South Korea
3. 70s Panelled Suits in Berlin, Germany
4. Off The Shoulder in Lagos, Nigeria
5. White Tees in Paris, France
6. Belted Coats in Milan, Italy
7. Ripped Denim in Barcelona, Spain
8. Oversized Sleeves in Shanghai, China
9. Metallic Boots in London, UK
10. Berets in Tokyo, Japan
11. Check Blazers in Copenhagen, Denmark
12. Camo Print in Sao Paulo, Brazil
13. Coloured Faux Fur Coats in New York, USA
14. Cut-Out Lace in Savannah, USA
15. Cropped Trousers in Melbourne, Australia
16. Embellished Clutches in Dubai, UAE
17. Appliques in Kiev, Ukraine
18. Stripes in Tbilisi, Georgia
19. Statement Outerwear in Stockholm, Sweden
20. Voluminous Skirts in Dakar, Senegal

Long Tall Sally commissioned water-colour illustrations, by artist Rebecca Side, to bring the research to life. Each illustration has been hand drawn to sum up the key look of the city.

The research was conducted by Long Tall Sally to coincide with the launch of their campaign #CURATDBY which focuses on supporting emerging global fashion talent. More details can be found at https://www.longtallsally.com/curatd/by
About Long Tall Sally
Long Tall Sally is the world leader in fashion and footwear for tall women. With 10 websites shipping to over 190 countries in the past 12 months, the brand is the global destination where style starts at 5'8" and UK shoe size 7. Designing each piece in house for the perfect tall fit, Long Tall Sally is the first choice of tall women worldwide with 26 stores in USA, Canada, UK and Germany.
Thursday, 26 October 2017 Section:
Fashion
Share this article on Facebook