People and Places
The Candle Princess: Raffaella Issoglio

If you ever have the opportunity to visit the Vieux Village de Roquebrune, the hilltop village above Monaco, make sure you visit Princess Candle. This is a little jewel that must not be missed. Princess Candle is a boutique created by Raffaella Issoglio who comes from Pinerolo, a town near Turin.
Raffaella trained in fashion and art and following her training, she started working in the textile industry and created her own fashion brand "Isterika".
Being Passionate about all types of craftsmanship, a trip to Spain introduced her to wax working and it was from this point she developed a passion for creating wax candles which then became her hobby: "For me it is magical and rewarding to create with my hands, letting me express my imagination and creativity."
Following her marriage to a Frenchman, they moved from Italy to the Côte d'Azur. Her first intention was to continue with her fashion business but the opportunity to create candles was very appealing. And so, in 2005 Princess Candle was born out of her true passion for the art.
Raffaella uses her creativity and skill to design various types of candles which are created from 5 kg wax blocks using special machines. A colouring process takes place, followed by carving and sculpturing. All of this takes place in her Atelier in Roquebrune. Raffaella has created stunning designs with special attention to detail. She is a master at creating wood effect candles and has incorporated glass pieces which reflect light when the candles are lit. Very often Raffaella is commissioned to design and create bespoke candles for occasions and events.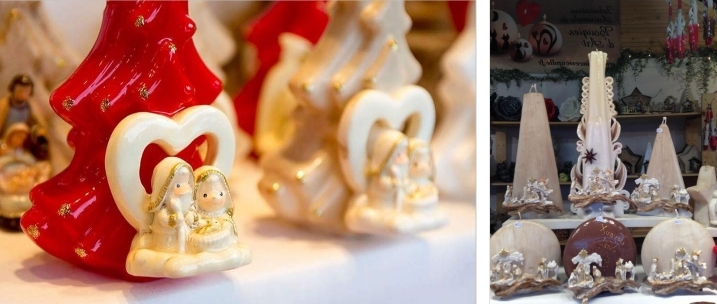 When she is not working in her boutique, Raffaella also takes part in the "rare art crafts in France" and is often invited to fairs and exhibitions all over Europe. She can also be seen at the Christmas Fair in Monaco.
www.facebook.com/princesscandlefrance
Share this article on Facebook