Food and Recipes
Ricotta e Pera di Ristorante Tasso

Ristorante Tasso is situated in the heart of Sorrento, the hometown of the poet Torquato Tasso, who was born here in 1544. Also Sorrento is known as the land of colours; land of the mermaids and the city of the orange and lemon groves.
It is not surprising that words such as: Authenticity, Professonalism, Passion, Quality, Friendliness and Kindness, are words used to describe the restaurant which opened in the year 2000. Both the menu and wine list have been carefully chosen to suit absolutely everyone.
"Our Chefs are dedicated and yet still apply creativity whilst still respecting the local tastes and traditions. Everyday we select the best products from the area, and embrace the seasons. This forms the foundation of our philosophy at the Tasso Restaurant, the scrupulous care we take so we can propose high quality dishes for our diners and also for those with specific dietary requirements.

Great care and attention is given to our wine list so we can offer an extensive choice to suit all palates. Nothing is too much trouble for us. " says Tonino Savarese, Maitre della sala ristorante.
Following The Riviera Woman's recent mission to Sorrento, and an evening dining at Ristorante Tasso, we took away with us not only a beautiful experience but a recipe that we know you will want to experience for yourself.

This recipe caters for 30 individual portions - so perhaps you can try and half the ingredients and make one individual torta (cake). Created by Chef Giovanni Blucher.
Ingredients
800g Ricotta
250g Sugar
800g Whipped cream
400g Pureed Pears
20g Gelatin
Method
1. Mix together Ricotta and sugar.
2. Whisk the cream until peaked.
3. Place the gelatin strips in cold water.
4. Add the pureed pear into the ricotta and sugar. (Leave in reserve some pureed pear to use to decorate at the end.)
5. Blend the whipped cream into the mix.
6. Dissolve the gelatin and then using a bain-marie fold the dessert mix into the gelatin.
7. If making individual deserts use an 8 cm foil container. Place a biscuit base at the bottom, similar to when making a cheesecake. Pour the mixture into the foil dish.
8. Leave in the fridge for 4 or 5 hours.
9. To serve, turn out the desert onto a dish and place a little of the pureed pear on top and decorate the plate with salsa inglese (creme anglais) or custard as we English call it. Arrange seasonal berries to create your masterpiece. Eat and savour the flavours. Perfetto!
Nobody leaves Ristorante Tasso hungry. The hospitality is rich and forthcoming. Bfore leaving you will receive a glass of limoncello which is produced locally, and when we say locally we mean by the owner of the restaurant, and accompanied with tasty biscotti!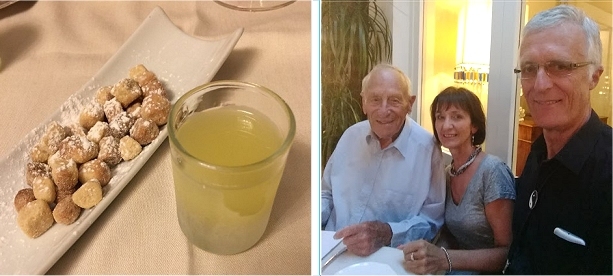 Share this article on Facebook