Health and Beauty
Tattoo Removals
It's estimated that about one in five of the UK population as a whole is tattooed and this figure rises to one in three for young adults. Over 40 million people in the US have tattoos (24% of all US adults.) 47% are aged between 21 and 35. A further result revealed that one third no longer wish to have their tattoos.
What are tattoos?
Tattoos are permanent markings in the skin made by way of ink and needles. Once ink is deposited into the second layer of skin known as the dermis, the wound scabs over and the skin heals to expose a design under the new layer. Tattooing is now an acceptable form of body art.
---
Dr. Bertrand Pusel is a professional dermatologist and laser technologist in aesthetic dermatology. He practices at clinic Villabianca, Saint-Paul de Vence, in the Alpes-Maritimes department.
Dr. Bertrand Pusel has a Doctorate in Medicine, a Certificate of Special Studies in Dermatology and a Certificate of Tropical and Exotic Medicine.
He is a member of the French Society of Dermatology and Aesthetic Surgical (SFDCE), and has served as Chairman of the Laser Group of the French Society of Dermatology (2007-2010) and Vice-President of the French Society of Dermatology (2009 -2011).
---

Taking into account the number of people wanting to have their tattoos removed, we spoke with Dr. Bertrand Pusel, at the Clinic Villabianca, on the available techniques to reverse the action of tattooing. One of the options is treatment by Laser, and Q-switched lasers are the gold standard for tattoo removal.
It is important to make sure that you speak with a professional such as dermatologists and medical experts that are fully qualified to carry out these procedures.
Depending on the size and colour of the tattoo, the number of treatments will vary. The tattoo may be removed in two to four visits, though it may take as many as 20 more sessions to achieve a satisfactory result. For the best accurate information you should schedule a consultation, during which time a trained professional will evaluate your personal situation and advise you on the best process for you.
Treatment with laser varies from patient to patient depending on the age, size, and type of tattoo (amateur or professional). The colour of the patient's skin, as well as the depth to which the tattoo pigment extends, will also have an affect on the removal technique and result.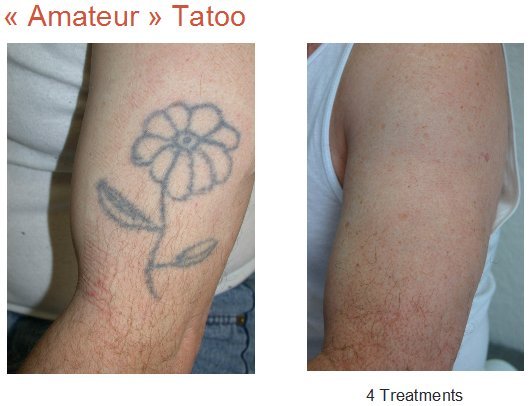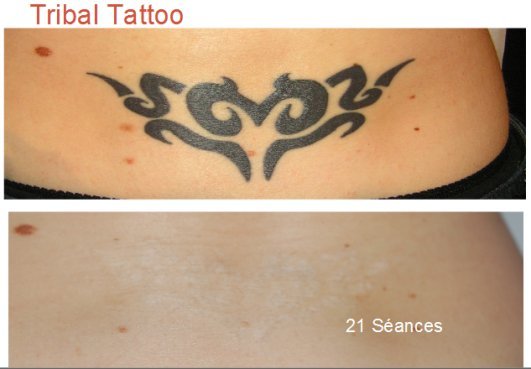 Laser treatments are typically spaced between 1 and 2 months apart but increasing this interval is advised. Dr Pusel advises: "The treatment can be painful, so a topical anesthesia and good after care is crucial." He continues: "A product such as Aquaphor© or healing ointment should be used for about 10 days following the procedure."
The treatments are often a long and expensive process and not always successful, so this has to be recognised. A good doctor will point this out during the consultation. Dr Pusel goes on to say that as with all treatments there is always the possibility of side effects following laser treatment, 'Hyper or Hypopigmentation, Scarring, Uneven clearing. Dr Pusel continues: "However, thanks to newer technology, laser tattoo removal has become much more effective with very little risk of scarring."
Skin types are also a key factor into the success rate of the removal of tattoos using laser treatment. A spot test is performed for "cosmetic tattoos" say Dr. Pusel, "such as tattoo of the eyebrow because sometimes, the colour can turn into a very undesirable one, depending on the quality of the pigment originally used. For all other tattoos, we proceed with the treatment of the entire surface."
~~~
For further information you can contact Dr Bertrand Pusel at the Villabianca Clinic:
Dr. Bertrand PUSEL

VILLABIANCA DERMATOLOGIE

718, Bd Pierre SAUVAIGO
06570 St Paul de vence

Tél. :+33 (0)6 8 023 47 11

contact@villabianca.fr
You can read all our articles on esthetic treatments at Villabianca
Share this article on Facebook