Food and Recipes
Olive Oil the Ligurian Taggiascan Way
Olive Oil plays a big part in Mediterranean cuisine. Liguria produces some of the world's finest olive oil - of the extra virgin variety.
Taggiasca. It is so named because it was brought to Taggia by the St. Columban monks from the monastery of Lerins' island. Over the centuries Taggiasca's grafts were grown throughout Italy, although the largest cultivation has always been in the Imperia province. Today it is one of the most famous olives for the production of extra virgin olive oil and one of the best table olive, because the fruit, despite its small size, is very tasty.
Benefits:
Olive oil is loaded with antioxidants which is vital for strengthening and protecting the immune system and extra virgin olive oil may help you become more resistant to infection. This wide range of important antioxidants is not found in other oils.
Olive oil plays an important role in the longevity of people living in the Mediterranean. It is full of carotenoids, polyphenols and antioxidant vitamins. Olive oil has been proven to protect against diabetes, arthritis, heart disease, and strokes. Regular consumption can lower the risk of cancer of the bowel, breast, colon and prostate. It also helps prevent cognitive decline in old age. To maximise the healthy effects of olive oil in your own diet, always choose extra virgin.
Nutrient Composition of Extra Virgin Olive Oil
Extra virgin olive oil is fairly nutritious.
It contains modest amounts of Vitamins E and K and plenty of beneficial fatty acids.
This is the nutrient content of 100 grams of olive oil (1):
Saturated Fat: 13.8%.
Monounsaturated Fat: 73% (most of it the 18 carbon long oleic acid).
Omega-6: 9.7%.
Omega-3: 0.76%.
Vitamin E: 72% of the RDA.
Vitamin K: 75% of the RDA.
Not only is the extra virgin oil a wonderful in it's purest form as a dressing - it is also used as one of the main ingredients to make Genovese Pesto. For those who have never eaten freshly produced pesto, it is of the many highlights in Italian Ligurian cuisine.
Genevese Pesto
100 g Basil leaves
40 g Pine nuts
100 g Grated Parmesan cheese
20 g Pecorino cheese
100 gr Taggiasca extra virgin olive
1 or 2 cloves of garlic
6 g marine salt
To Make
Put the garlic and salt in a mortar and beat until creamy.
Then add the basil leaves previously washed and dried, leave them whole so that they retain their intense green colour. It is important that the leaves are not pressed against the bottom of the mortar, but on the sides, mixed in a circular motion, slowly and without too much pressure.
Then combine the pine nuts and the grated cheeses, adding the oil drop by drop.
Storing: Pour the sauce in jars and let it rest for a couple of hours without the lid, covered with a sheet of wax paper. When the oil comes to the surface, sealing the pesto from the air, close it energetically, add a little more oil if necessary.
The resulting pesto will keep for several months even if the typical green colour begins to darken a little.
~~~
If you are fortunate to live in the Mediterranean hinterlands and have your own olive trees, you will know that from November to February it is harvest time. You can of course collect and turn those wonderful fruit into your own finest extra virgin olive oil at your local mill and you can also leave some apart for bottling in a brine solution.
Bottling Olives
The preparation is important. After collecting the olives it is important to soak in water for about 4 days, changing the water every day. This removes the bitter (amaro) taste from the olives.
For every litre of boiled water add 100 grams of salt.
When the water is cool, fill jars with the olives and spoon/pour the salt water over the olives covering them. Seal and then store for a minimum of three months before bringing them out to enjoy.
They can be added to any dish or eaten whilst enjoying your apero!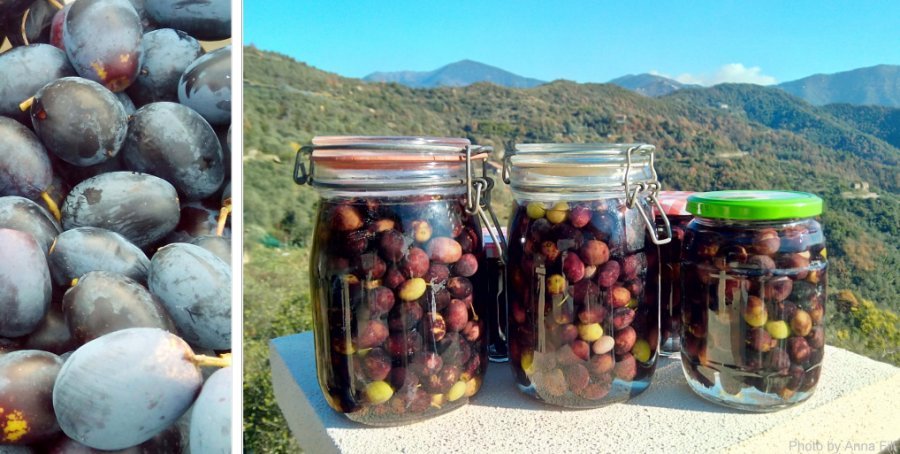 Share this article on Facebook