Fashion
Denim does it
Denim clothing is probably the most well known fashion range in the world and is worn by people of all ages and all cultures. Blue jeans were first invented in 1871 by Jacob Davis and over 140 years later, it still has great appeal with designers creating designs for the high street and high end.
This spring and summer there will will no shortage of denim in the boutiques. From the casual to chic, you are going to look on trend wearing denim in any way you wish. We found 5 pieces that really caught our eye.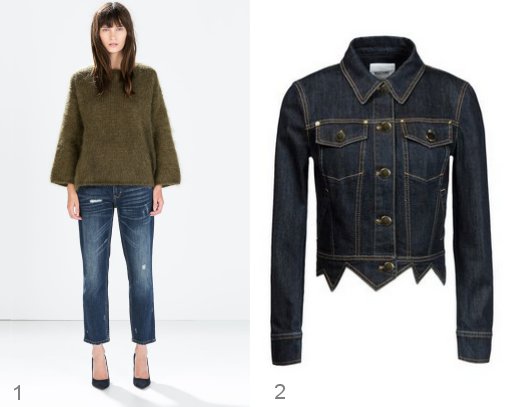 No 1 - is this pair of Relaxed Cigarette Jeans by Zara. Teamed with a pair of heels and a casual jumper, you have a look that is bang on trend. Also great with a pair of chic moccasins and a sleeveless blouse and you will be looking the biz this spring and summer.
No 2 - This Moschino piece caught our eye. The jacket sports a solid colour and classic neckline. The single button cuffs, four pockets and visible stitching fuses traditional and trend for endless style.
No 3 - Denim slingbacks. These shoes are so chic and sophisticated and whether you wear them with skinny jeans of tailored pants, everyone is going to say 'you have style'!
No 4 - Karen Millen has come up trumps with this fabulous 'Tailored Denim Effect Trench Coat' with tie belt. Whether you wear it night or day, you are going to feel like a cool denim diva.
No 5 - This denim dress is perfect for warm summery days. By MiH Jeans, A true 70s style shirtdress with modern updates. The braided belt cinches at the waist while sleeves are cut wide into clean points. Buttons through with copper detailing, side pockets and subtle pleat at waistband.
Thursday, 26 February 2015 Section:
Fashion
Share this article on Facebook