Fashion
Party Time - Let's Dress Up

December has finally arrived and Christmas fever and New Year's preparations are getting to all of us. In case you haven't had time to walk around the shops or even think about what you are going to wear on that special night, I decided to help you out and show you what high street brands and luxury boutiques offer us this season.
As you will notice, I have selected similar dresses from different price ranges and brands in order to show you that beautiful dresses or stylish pieces don't always have to cost a lot of money.
It doesn't matter what your body type, sense of style or budget is - choose the dress that makes you feel fabulous and confident. Dance, smile and have a wonderful time celebrating and enjoy welcoming in the New Year as you look and feel gorgeous!
Have a great night wherever You may be!!!

Red Dress: Left: MANGO €99,99 Right: TIBI €540
Black dress with a bow: Left: FRENCH CONNECTION €243,27 Right: LANVIN €3,745
Long black dress: Left: H&M €59,95 Right: MICHAEL KORS €2,716
Print dress: Left: MANGO €109,99 Right: MARY KATRANTZOU €750
Metallic dress: Left: TFNC €74,33 Right: HERVÉ LÉGER €2,320
Neutral color long dress: Left: MANGO €119,99 Right: NINA RICCI €3,800
Blue dress: Left: MANGO €149,99 Right: Preen by THORNTON BREGAZZI €910
Gold dress: Left: FROCK AND FRILL €114,88 Right: L'WREN SCOTT €1,630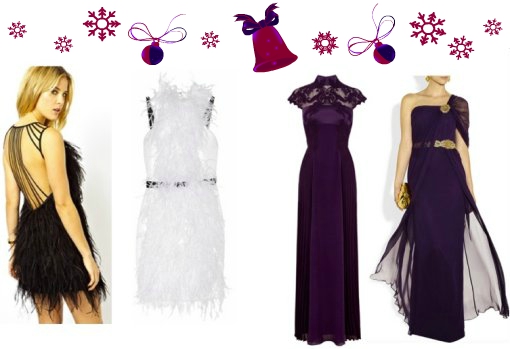 Feathers dress: Left: ASOS PETITE €175,70 Right: JASON WU €5,145
Purple dress: Left: KAREN MILLEN €599 Right: NOTTE by MARCHESA €1,198
Share this article on Facebook