General Articles
Breast Cancer Awareness
Breast Cancer Awareness Month... so be aware!
The Riviera Woman continues to support Breast Cancer Awareness. The last article talks of facts and figures. We told you how to check your breasts and also included a short video for you to see:


There can never be too much information given. The whole month of October has been dedicated to 'Breast Cancer Awareness'.
Nicole Kidman, patron of Cancer Research UK's breast cancer awareness campaign:

"I am honoured to support Cancer Research UK's Join the fight for women's survival awareness campaign. As someone whose family has personally been affected by the disease, I can't stress enough how important it is that women get to know and understand what is normal for their body.

"Every year, more than 45,000 women in the UK are diagnosed with breast cancer. Cancer Research UK is the largest single funder of breast cancer research in the UK, spending around £45m on ground breaking work into beating breast cancer last year, including ways to better understand, diagnose and treat the disease. Without the help and support of the public, none of this would be possible, so I urge all women to 'Join the fight for women's survival'.

"I hope that Cancer Research UK's campaign will raise awareness of breast cancer among women of all ages and encourage them to report any unusual changes and go for screening if they're over 50. Together we will beat cancer. "



Dame Judi Dench, designer of Judi duck, said "I was really happy to get involved with Cancer Research UK and the charity's breast cancer awareness campaign. The inspiration for Judi came from wanting a pink and pretty duck.

I know first hand what a devastating disease cancer is and I hope that the Judi duck will help raise awareness as well as funds for Cancer Research UK's life saving work."

Photographer: Keith Hamshere


Breast Cancer

A significant history of breast cancer in the family includes the disease affecting a close relative before the age of 50, or if two or more close relatives on the same side of the family have been affected. If appropriate your doctor will refer you to a breast care unit or genetics clinic.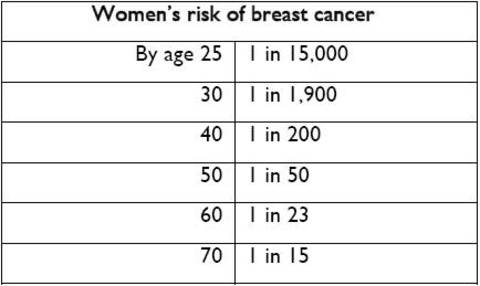 TOP TEN BREAST CANCER MYTHS EXPLAINED

1. Using deodorant causes breast cancer
There is no scientific evidence that anti-perspirants or deodorants cause breast cancer or increase the risk of the disease. More information is available at:
http://info.cancerresearchuk.org/healthyliving/cancercontroversies/

2. An ill-fitting bra can cause breast cancer
There is no evidence to show that tight or underwired bras cause breast cancer.

3. Women are as likely to get breast cancer in their 30s or 40s as in their 60s and 70s
Breast cancer risk increases with age. Eighty per cent of cases are found in women over 50.

4. Lumps are the only sign of breast cancer
Other possible signs include changes in the size, shape or feel of your breasts, any puckering, dimpling or redness of the skin, changes in the position of the nipple, a rash or nipple discharge, or pain or discomfort that is new to you and felt only on one side. Further information is available at www.cancerhelp.org.uk

5. Asking for screening over 70 is pointless as women are unlikely to get breast
cancer at that age
The older a woman is the greater her breast cancer risk. Cancer Research UK encourages women to ask their GPs to arrange screening after invitations stop at 70.

6. Women from low socio-economic groups are more likely to get breast cancer
Breast cancer is actually more common among middle-class women, which may be due to lifestyle habits such as having children later.

7. Black and Asian women hardly ever get breast cancer
Although rates vary between different ethnic groups breast cancer remains the most common
cancer among all women.

8. Breastfeeding children increases breast cancer risk
Scientific evidence consistently shows the longer a woman breastfeeds the more she reduces her risk of the disease. Further information is available at www.cancerhelp.org.uk

9. Waiting to have children until your 30s decreases breast cancer risk
Studies show that women who have children later in life actually have an increased risk of breast cancer.

10. Red wine prevents breast cancer
Drinking moderate amounts of alcohol, even red wine, can increase the risk of breast cancer. The more you cut down on alcohol the more you reduce your risk.
Share this article on Facebook