Books and Films
Romantics Anonymous (Les Emotifs anonymes) 2010 French with subtitles.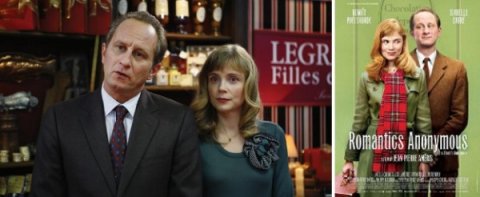 Review by Xanthoula O'Connor:
A beautifully refreshingly sensitive film that charts the lives of Angelique, a chocolatier extraordinaire and Jean-René, the almost bankrupt chocolate company owner.
Sounds like a match made in heaven... except these two emotionally compromised people, are almost completely unable to express themselves..
Fortunately, fate is one of the main ingredients that whisks these together ,in this slightly dark comic film. We follow Angelique as she surfaces from being a hermit on her quest for a new job, and after a short mumbling interview with Jean-René. The ever fainting Angelique, sets off with passion in her heart, chocolate in her briefcase and a chant of 'sell chocolate,' in her ears. But this is not to be, the chocolate is not up to par and Angelique tries to pull out secretly a recipe for alchemy, in order to try to save the company.
Meanwhile, Jean-René, constantly swings on a emotional pendulum between the equator and the north pole in 0.5 seconds over Angelique... not forgetting the underlying threat of losing his company. However, it would seem that a recipe for disaster has been finally been put in the oven to bake, when the two are unwittingly booked into the same room in at a hotel, for the all important make or break Chocolate Exhibition.
The close up and medium close ups of the flowing cinematography, captures the central pivot of the surrounding panic and slight claustrophobia, that constantly embraces the characters, as they battle with shyness, and the consequences of their actions to be together and the panic seziures that push them to the extremes they go - to avoid each other.
The film is based losely on the autobiographical journey of the Director Jean-Pierre Améris when in 2002 he joined a group ' Emotions Anonymous in 2002, a discussion group based on the same principles as Alcoholics Anonymous.' Romantics Anonymous..is a lovely film..in which two people shy away..from love....well at lest until their passion for chocolate over whelms them.
Cast Benoît Poelvoorde, Isabelle Carré, Lorella Cravotta, Lise Mamétrie, Swan Arlaud, Pierre Niney, Stephan Wojtowicz
Director Jean-Pierre Améris
Share this article on Facebook