Health and Beauty
Be Kind to Yourself... with Yoga

The best way to treat yourself, is to look after yourself. Finding that perfect harmony in mind and body should be a priority. Anette Shine lives and breathes yoga and knows how having a balanced lifestyle and time to reconnect with yourself is essential to healthy living.
With over 30 years of experience, Anette knows that each and everyone of us is different and so are our needs. There are various styles of yoga to meet our demands and you owe it to yourself to find time to discover yoga. You are your best investment, so be kind to yourself!
About Yoga
Yoga is an ancient form of exercise that focuses on strength, flexibility and breathing to boost physical and mental well-being. Originating from India around 3000 B.C, the word Yoga derives from Sanskrit, one of, if not the oldest languages known to man, and is said to mean 'to unite'. Yoga connects mind with body, the conscious individual with the conscious universe, creating that harmany between human and nature.
Yoga Styles
Vinyasa Flow
Vinyasa Yoga, also called flow yoga, is a dynamic style of yoga that stems from Ashtanga Vinyasa, created by Pattabhi Jois. Each movement is synchronized to the breath. Each posture transitions easily to the next. Classes are appropriate for intermediate to advanced practitioners. Sun salutations serve as a framework for all Vinyasa classes. Vinyasa Yoga is designed to realign the spine, detoxify the body, and build strength, flexibility, and stamina.
Gentle / Prenatal Yoga
Gentle Yoga is suitable for anyone needing a calm and gentle practice. Much like other types of childbirth-preparation classes, prenatal yoga is a multifaceted approach to exercise that encourages stretching, mental centering, and focused breathing. Research suggests that prenatal yoga is safe and can have many benefits for pregnant women and their babies.
Gentle / Prenatal classes consist of breathing, gentle stretching, various yoga postures with the use of props, a cool down and relaxation. Classes improve strength, flexibility, balance, self-awareness, and inner calm.
Ashtanga Yoga
Ashtanga is a style of yoga rooted in the ancient and traditional system of hatha yoga. It is based on a precisely designed sequence of postures where every movement is coordinated with the breath. This powerful and vigorous practice purifies and realigns the body, cultivating a feeling of inner peace. When practiced with patience and diligence, Ashtanga yoga further allows a person to evolve to their fullest potential on a physical, psychological and spiritual level.
Hatha Yoga
Hatha Yoga is perfect for those who are new to the practice of yoga. Classes are also modified to suit the needs of pregnant women.
Each Hatha Yoga class consists of a gentle practice of physical postures (asanas) along with conscious and controlled breathing (pranayama). The relaxation at the end of the class aids in absorbing the effects of the practice and helps regenerate the body and mind.
Pilates & Yoga
Discover the unique and pleasant fusion of the two most popular holistic fitness techniques in the world: Pilates and yoga. Both Pilates strengthens the core and develops muscles whilst lengthening them. The practices work together in harmony to cultivate self-awareness, strength, balance, flexibility, and stamina and serve as an ideal fusion for the body, mind, and spirit.
Various props, such as foam rollers, elastic bands, blocks, and straps, are used in the class to support students and make exercises more effective.
Pilates
Try Pilates! Pilates is currently one of the most popular ways to exercise. The practice incorporates a combination of static and dynamic exercises that sculpt and tone your body, improve your posture, renew your vitality, and create harmony in your body and mind. The creator of this method, Joseph Pilates, combines movements from yoga, dance, gymnastics, and other calisthenic exercises.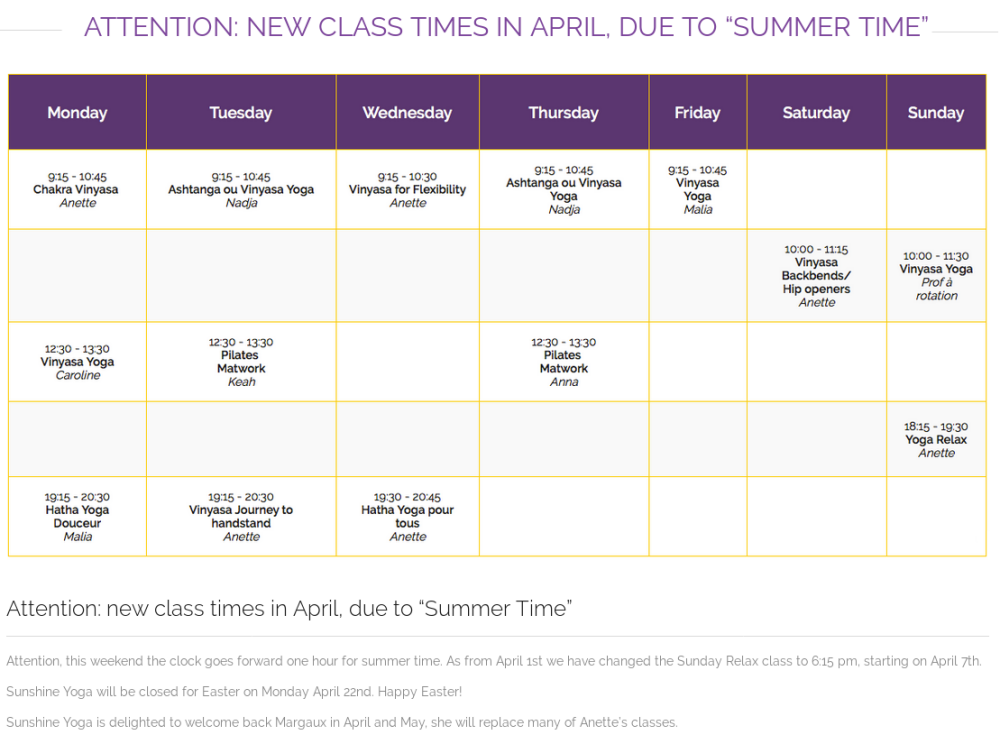 Sunshine Yoga
sunshine@yogamontecarlo.com
Mobile : +33 (0)6 64 91 96 42
Phone : +377 97 77 78 01
Share this article on Facebook