Editor
Reasons to smile!
What a difference a smile makes! To greet someone with a smile is one of the greatest things anyone can do. It's easy to do, costs absolutely nothing and yet can have such a wonderful impact on everyone!
We all have so many reasons to smile... Spring has sprung! The birds and singing! The frogs are croaking and the flowers are blooming. And whether the sun is shining or the rain is pouring down, it is the special people in our lives that really makes us smile!
I just feel so lucky as I get to meet so many inspirational people. My job is to make people smile and in return this gives me the motivation to smile a whole lot more! What a win-win situation! It's as easy as A B C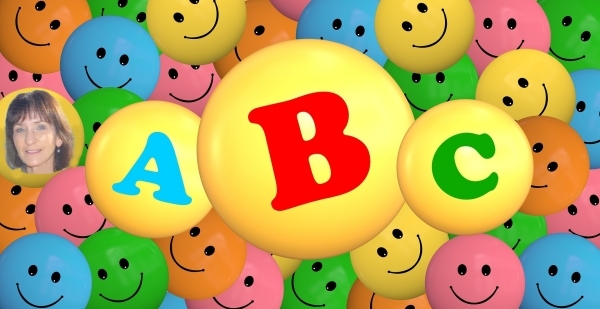 Here are 10 reasons why you should smile every day!
Smiling Makes You Attractive. ...
Smiling Relieves Stress. ...
Smiling Elevates Your Mood. ...
Smiling Is Contagious. ...
Smiling Boosts Your Immune System. ...
Smiling Lowers Your Blood Pressure. ...
Smiling Makes You Feel Good. ...
Smiling Makes You Look Younger.
Smiling Makes You Seem Successful
Smiling Helps You Stay Positive
And if I were to add one more reason, it would be... A smile is simply the prettiest thing you can wear!
So as we charge through the month of May, remember to smile, smile and smile some more... Go on, you know you want to!

Anna Fill - Consultant, Counsellor, Celebrant: +39 339 724 8538
---
Anna Fill: Wedding Celebrant

You can have the wedding of your dreams! Together we will create the ceremony with personalised moments that you will hold precious forever. This is your day and everything is possible. Visit my website.
An Interview with... Sandrine Martin
The Professional Women's Network Nice Côte d'Azur exists to bring like-minded women together. Sharing the role of President with Sandra Richez who we interviewed in March, this month The Riviera Woman speaks with Sandrine Martin about her work and role within the PWN organisation. Read more
Sarah's Vignettes: One Cornish Summer by Liz Fenwick

Sarah Swan just loves to read books, books and more books. This time Sarah has chosen to feature: One Cornish Summer by Liz Fenwick and also an interview with the author. Read more
Judy Churchill: Doer or Viewer?

Judy Churchill takes a look at how the plethora of information both good and bad available on social media has us whiling away the hours viewing without realising that this may be stopping us from 'doing'. Read more
PWN Nice-Côte d'Azur: May Events - 2018
The Professional Women's Network are welcoming you to our events this May. At PWN, we believe in motivating each other, supporting each other and finding solutions. It is clear that when working together we are so much more. Read more
Health and Beauty: How To Get A Royal Smile In Time For Your Wedding
Kate Middleton allegedly had dental surgery worth thousands before her wedding. Orthodontic treatments can take up to a year for noticeable results. Meghan Markle sports one of the most famous smiles in the world... Read more
Food and Recipes: The Colour Purple: The Aubergine
We all love dishes that quick, easy to make and healthy. Aubergines have always been a big favourite on The Riviera Woman. It is such a versatile vegetable and suitable for vegetarians and vegans. This time we have created a dish using Italian Mozzarella and aubergines.... Read more
Monaco Reporter: The Princess Charlene Foundation - Saving Lives
Over one million euros was raised at the Gala attended by Princess Charlene helping her Foundation save lives by preventing drowning... Read more
Events: Samurai Art Expo - The best of Japanese art

Samurai Art Expo, a unique new international antiques exhibition of Japanese art, illustrating the history and culture of Samurai-era Japan... Read more
Monaco:

Our Monaco reporter, Celina Lafuente de Lavotha keeps us updated with the news from the Principality - from culture to entertainment. Enjoy!
Horoscopes

You can now read your Horoscope every day. So Read Yours Today
***
We share all our features and articles on our Facebook Pages - feel free to add your comments. If you haven't already done so... please 'Like' The Riviera Woman, because we really like you.
Talk to us because we'll talk about you. It's what women do...
and then you'll talk about us.
***

We continue to add busy people to our Busy Pages. It is an easy way for any small business or individuals to advertise what it is that you do and reach a new audience. Our promise is that we will be extremely busy by making sure that you exist and we will do everything we can so you and your business will be busy, busy, busy! Also join our new Facebook Group: Busy People Network!
***

Anette Shine is Sunshine Yoga and Sunshine Zumba. Anette can and will help you achieve a great healthy mind and body.
***

Dr. Jean-Luc Vigneron - Expert in dermatology and esthetic treatments situated at Villabianca in Saint Paul de Vence, France.
***
I look forward to hearing from you with all your news, views and updates.
Anna Fill
+39 339 724 8538
www.therivierawoman.com
anna@therivierawoman.com