Events
Vivaitalia (Britalia) Club this January 2017
Welcome to January 2017
Happy New Year! Buon anno!
Now that all the Christmas and New Year festivities are over, it is time to get the 2017 ball rolling. It is certainly going to be an eventful and challenging year on many levels but that does not mean we cannot succeed, have fun and show gratitude by making the most of every opportunity we are lucky to have... especially with living in this most wonderful country that we have chosen to make our home! Above all, let's hope that we all have good health because without that, nothing else really matters.
La Bella Vita! La Bella Italia! #VivaitaliaClub
***
* Vivaitalia Bordighera Apero Evening: Friday 27th January, starting at 6.00 pm. We hope to see you at our winter residence with Vanda at her Prestige Bar, near the church in Bordighera Town. As always you are welcome to stay as long as you like and enjoy chatting with new and old friends! Our December Apero was so very special and so much fun! It was the perfect way to end the year. See PHOTOS
~
* Cinema Cristallo - English Film Night: Saturday 14th January.
The film is: A Bigger Splash - Starring Tilda Swinton, Matthias Schoenaerts, Ralph Fiennes.
The vacation of a famous rock star and a filmmaker in Italy is disrupted by the unexpected visit of an old friend and his daughter. In A BIGGER SPLASH, the lives of a high profile couple, a famous rock star (Tilda Swinton) and a filmmaker (Matthias Schoenaerts), vacationing and recovering on the idyllic sun-drenched and remote Italian island of Pantelleria, are disrupted by the unexpected visit of an old friend (Ralph Fiennes) and his daughter (Dakota Johnson) - creating a whirlwind of jealousy, passion and, ultimately, danger for everyone involved.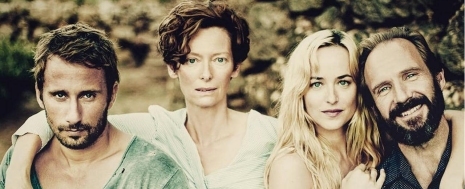 Video Preview HERE
Starts at 6.30 pm - Film length 2 hr3 05 mins.
Venue: Cinema Cristallo, Dolceacqua.
We enjoy going for a meal/pizza afterwards so why not join us. Email me to let me know if you would like to go to the restaurant so I can book a table for us. The restaurant keeps a tab of individual orders which makes it nice and simple. anna@therivierawoman.com
~
Chinese New Year: 28 January 2017, Year of the Rooster for those of you who were born on these years:
1909, 1921, 1933, 1945, 1957, 1969, 1981, 1993, 2005, 2017.
"I am alert
Ready to take action
The first on the scene
The last to leave
I take chances
But I am precise
I know where things belong
I am orderly and fastidious
Nothing escapes me
I am always prepared
I never give up or in
I AM THE ROOSTER"
~
The Monte Carlo Comedy Film Festival - 2017
The Mayor of Apricale has asked me if anyone from our group would like to take part in this festival in Monaco. You will need to be able to attend the screening of films on 3 particular days (1st-3rd March) in order to judge the films, and you will have the opportunity to meet and talk with the cast and filmmakers. A further opportunity will be to attend the gala at the end of the festival on the 5th March, in the presence of HSH Prince Albert ll.
Contact me if you wish to take part. anna@therivierawoman.com
~
Come and meet your friends and make new ones too as we engage in a lively fun evening. Everyone is welcome!
We look forward to seeing you very soon!




Anna Fill
+39 339 724 8538
Follow us on our website, Facebook Page or on MeetUp
www.vivaitalia.club
(www.britalia.club)
www.facebook.com/Britalia.Club
www.meetup.com/Britalia-where-English-meets-Italian
Any existing links to Britalia.Club will be ongoing. Even with a name change we are still the same group with the same principles and same mission: To meet like-minded people from all over the world who enjoy meeting others and sharing experiences in Bella Italia.
We as a club believe in being a part of the local community by supporting the local community.
For The Riviera Woman January Newsletter: HERE
The Riviera Woman celebrates 10 years this year!
Monday, 9 January 2017 Section:
Events
Share this article on Facebook