Fashion
Private Diamond Club - Sapphires, blue is the colour...
For those born in September, you are fortunate to have
the Sapphire as your birthstone.

"A maiden born when autumn leaves
Are rustling in September's breeze,
A sapphire on her brow should bind;
To bring her joy and peace of mind."
Sapphires have been treasured for thousands of years and it was the ancient Romans who polished them so they can be worn as jewellery.
The most valuable colour of Sapphire is a cornflower blue colour, known as Kashmir Sapphire or Cornflower Blue Sapphire. The Kashmir region of India/Pakistan was famous for its Kashmir-blue Sapphire, but little comes from the region now. Sapphires are however found in many places around the world, including Australia, Madagascar, Malawi, Sri Lanka, and the United States.
Sapphires are one of the most durable natural elements in the world. Gemstones are rated on their ability to withstand scratching based on a system called the Mohs Scale of Hardness, and Sapphires score a high 9 out of 10 and with only the diamond that can scratch a sapphire. The durability of Sapphires makes them an excellent choice for engagement rings and other pieces of jewellery that you plan to wear every day.
Deep blue sapphires have long been associated with royalty and it is quite possible that this association may have contributed to the naming of the colour 'royal blue'. Medieval kings often wore Sapphires believing the gemstones would protect them from their enemies. The sapphire was said to represent the purity of the soul and priests before and during the Middle Ages would wear sapphires as protection from impure thoughts and temptations of the flesh.
Sapphires are used both as centrepiece gemstone in pendants and rings, as well as a secondary stone to complement other gemstones such as Diamonds.

Napoleon Bonaparte gave this beautiful Sapphire and Diamond ring to Josephine in 1796
French Emperor Napoleon Bonaparte gave to his beloved Josephine a sapphire engagement ring in 1796. It features a pear-shaped Sapphire next to a pear-shaped Diamond, on a simple gold band. In 2013 the ring sold at auction for $1.17 million to an anonymous buyer.

Engagement Ring: Lady Diana Spencer and Kate Middleton
The most famous royal Sapphire today is the engagement ring featuring an 18-carat oval blue Sapphire surrounded by Diamonds, given to Lady Diana Spencer in 1981 by Prince Charles. It has seen been given to the now Duchess of Cambridge, Kate Middleton to celebrate her engagement to Prince William.
The Private Diamond Club have now introduced three beautiful sapphire pieces 'Sabrina', 'Stella' and Sophia. These rings are created using quality stones and 18 carat yellow, white or pink gold. A piece of jewellery to truly love and treasure forever.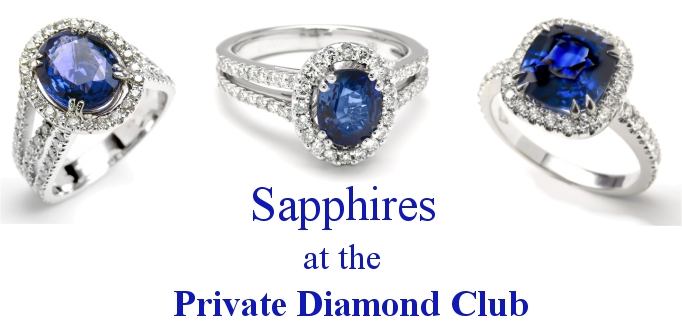 www.private-diamond-club.com/color-stones-jewels
Friday, 27 January 2017 Section:
Fashion
Share this article on Facebook