Art and Artists
Watercolour Courses with Artist Tess Baker
WATERCOLOUR COURSES
Starting this November
WITH ARTIST TESS BAKER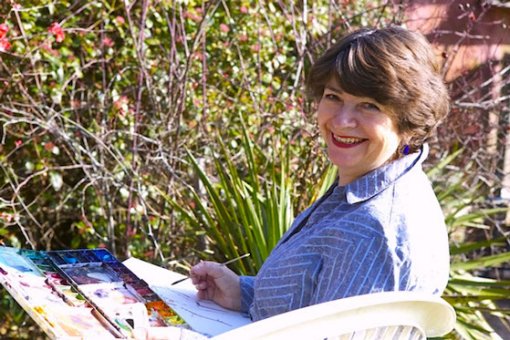 Learn to use water colours in your own way.
Enjoy freedom of creation and powers of observation.
You don't need any formal artistic ability to join this course. All you need is joyfulness and playfulness and a desire to create.
The structure will be simple, starting with shape, form and basic pencil sketches. You will learn about colour, how to mix and use water colours and technics for your painting. You will paint anything from still lives, and landscapes to imaginary paintings.
Tess will be running two six week courses with the first lesson FREE and materials provided. You will then need to purchase your own materials. Tess will help you find the best buys.
THURSDAY COURSE
in my studio (or outside if weather is fine, location to be decided.)
1142 Route des Miquelets
83510 Lorgues (map)
Tel: +33 (0)6 11 25 29 72
email: tessabakerart@gmail.com
COURSE DATES AND TIMES: 9.30 AM -12.30 PM
Starting November 6th every Thursday through to Thursday 11th December.
PRICE: €180 per person for five lessons with first lesson free to be made payable by cheque, cash or by Paypal one week prior to course. NB the course will only run if there is a minimum of 4 people. The maximum of people will 8.
SATURDAY COURSE
The English Book Center in Valbonne
12 Rue Alexis Julien
06560 Valbonne (map)
COURSE DATES AND TIMES: 3.00 PM - 6.00 PM
Starting November 1st, 8th, 15th and 29th to 6th December and 13th December
PRICE: prices and conditions are as above for the Thursday course.
A BIT ABOUT TESS
Studied at Chelsea School of Art
Slade School of Art Summer School
Artist's Students League 57th Street New York City
Studio Assistant to painter Richard Winkworth
Life Study Centre D'Art VAAS Vence
Illustration Course, St Martins London
Water colour Diploma Course. London Art College
To see more of Tess's paintings: www.tessabakerart.com
Please email: tessabakerart@gmail.com
Share this article on Facebook