General Articles
It's the first 'Business Happy Hour of 2013' for the Junior Chamber of Commerce.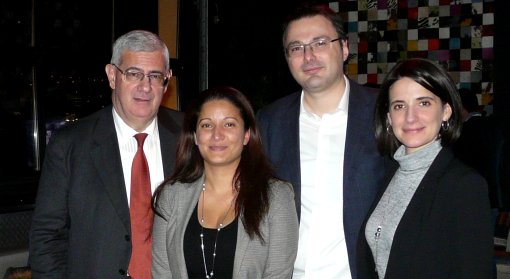 H.E Henri Fissore, Leila Chiha (President of JCE), Jean-Luc Meoli (JCE Communications), and Audrey Valle (Director Organizing Committee JCI European Conference) - Photo supplied by JCE
The National Business Network committee of Monaco's Junior Chamber of Commerce (founded back in 1963) organized its first Business Happy Hour of the year at the Star Deck on Thursday January 19th. The theme was the Principality's attractivity vis-a-vis international communities. H.E. Henri Fissore, Ambassador for the office of the State Minister explained the measures put into place to promote Monaco to companies and high level individuals. Audrey Valle, director of the organizing commmitte presented the upcoming JCI European Conference that Monaco will host from May 29 through June 1, 2013, that will attract more than 2500 members of JCI coming from all over the world, asking everybody present to actively participate in this important event.
For more information please visit www.jcemonaco.mc
Share this article on Facebook