Showing all articles having tag 'Vegetarian'
Food and Recipes
Melanie Gulliver shares another recipe that is perfect for wintry evenings when you come in from work or sport, and just want to hunker down by the fire with a simple tasty dinner that is still fresh tasting... Read more
Food and Recipes
National Vegetarian Week 2018 runs from the 14 - 20th May. Here are top ten tips for caterers by Sam Platt, manager of the Vegetarian Society Cookery School... Read more
People and Places

Molini di Triora is one of many special villages nestled in the hills of the Argentina Valley in Liguria. Whilst visiting the village, a must is to enjoy a meal at the local Ristorante Santo Spirito with the warmest of welcomes. Read more
Food and Recipes
This bean salad is full of wholesome foods and is so quick and easy to make. Great as a side dish or by adding other ingredients will make it a great main dish too, especially if you are vegetarian or vegan. Read more
Food and Recipes
Make food fun and easy during summer, using lots of colourful ingredients. We suggest trying these tasty Hash (#) Browns using Charisma potatoes then topped with a wonderful salsa/salad. To be accompanied with a glass of rosé. See more
Food and Recipes
The second and final part of our two-part article on food and the role it has taken in our development as a species. We conclude with vegetarianism and food allergies.
Food and Recipes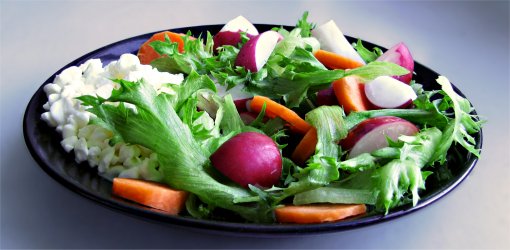 The news at the moment is full of the horse-meat scandal and many are questioning our attitude to food. There are three primary choices available; carnivore, vegetarian or Vegan, but what do these words actually mean? And what about food allergies? Read on...
Food and Recipes

A vegetarian quiche that uses up anything left-over in the veg basket.
Food and Recipes
Aubergine and Tomato Gratin. This makes a wonderful dish for your Vegetarian friends.
Food and Recipes
Baked stuffed aubergines which are tasty and can be made without any meat for a superb vegetarian platter.